The Baltimore Ravens' 2022 season ended on Sunday Night Football during Super Wild-Card Weekend, on the back of one of the most incredible plays in playoff history when Cincinnati Bengals edge defender Sam Hubbard returned a goal-line fumble on a quarterback sneak 98 yards for the game-winning touchdown. 
That cruel ending also brought a harsh reality to the forefront: the Ravens face arguably their biggest offseason as a franchise, with 2019 NFL MVP Lamar Jackson heading for free agency as things stand. The Ravens obviously have the franchise tag at their disposal, and will likely use it if they have to, but the lack of a long-term deal will fuel trade speculation all offseason.
PFF's Mock Draft Simulator includes player trade functionality, so that gives us the ability to explore what a trade could look like and which players the Ravens could target if they were to decide to deal Jackson after a season in which he produced an 85.9 PFF grade, fifth among quarterbacks.
Timo Riske, PFF's consumer head of research and development, and Brad Spielberger, PFF's salary cap and contracts expert, put Jackson's trade value currently at three first-round picks plus a second- and a third-round pick. So, what are some of the trades we could see with teams picking in the top 10 of the 2023 NFL Draft?

---
Houston Texans send: 2023 first (second overall), 2023 first (12th overall), 2023 third (65th overall), 2024 first, 2024 second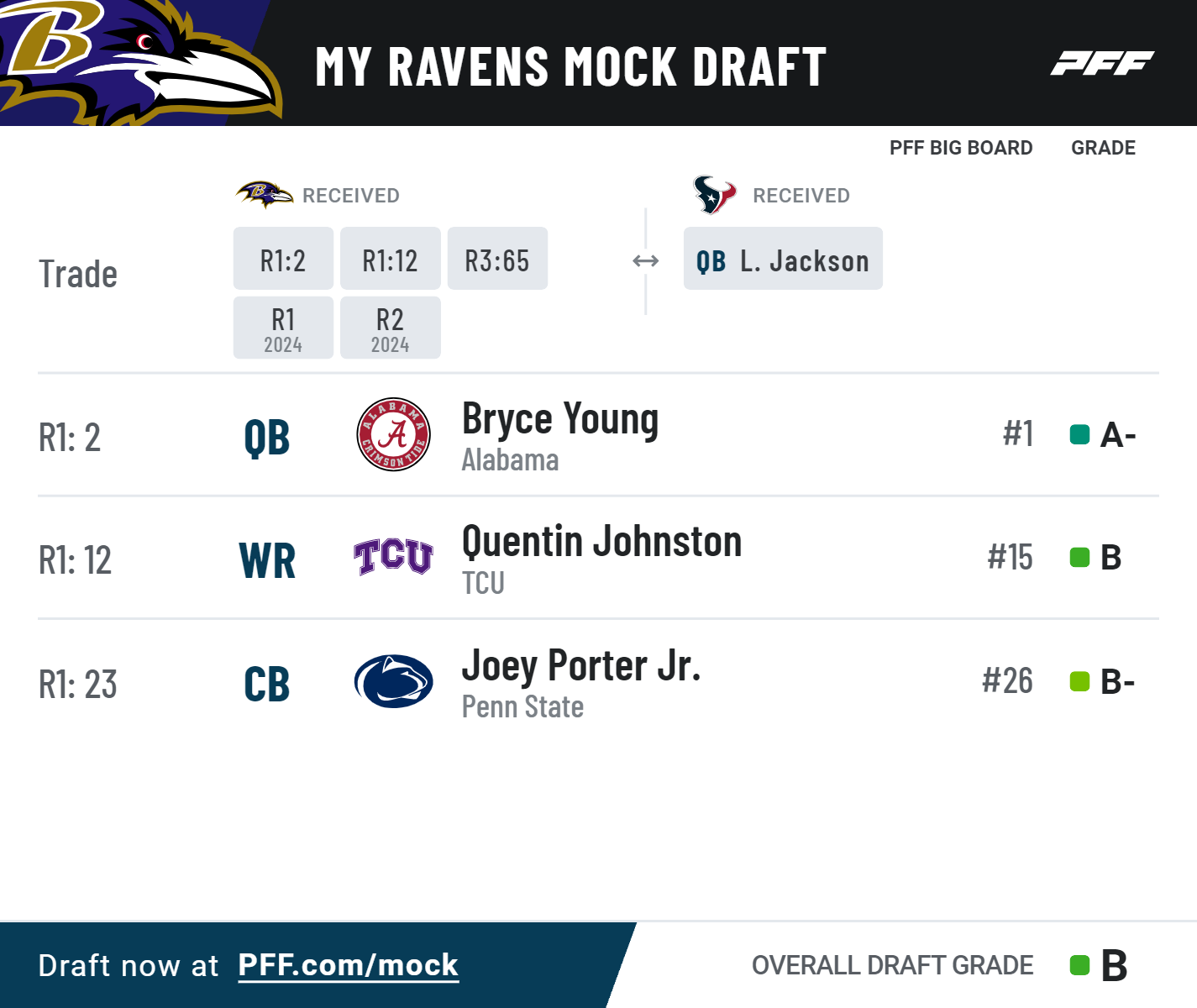 The Ravens trade within the AFC in this scenario, meaning they would have to go up against Jackson more often, but net two top-12 picks from a quarterback-needy franchise. Getting the second overall pick would guarantee the Ravens would be in position to select one of Alabama's Bryce Young, Ohio State's C.J. Stroud, Kentucky's Will Levis or Florida's Anthony Richardson. They could then use the No. 12 overall selection to land a top wide receiver prospect in TCU's Quentin Johnston before addressing a need at cornerback with their own pick in Penn State's Joey Porter Jr.
---
Detroit Lions send: 2023 first (sixth overall), 2023 first (18th overall), 2023 second (59th overall), 2024 first, 2024 third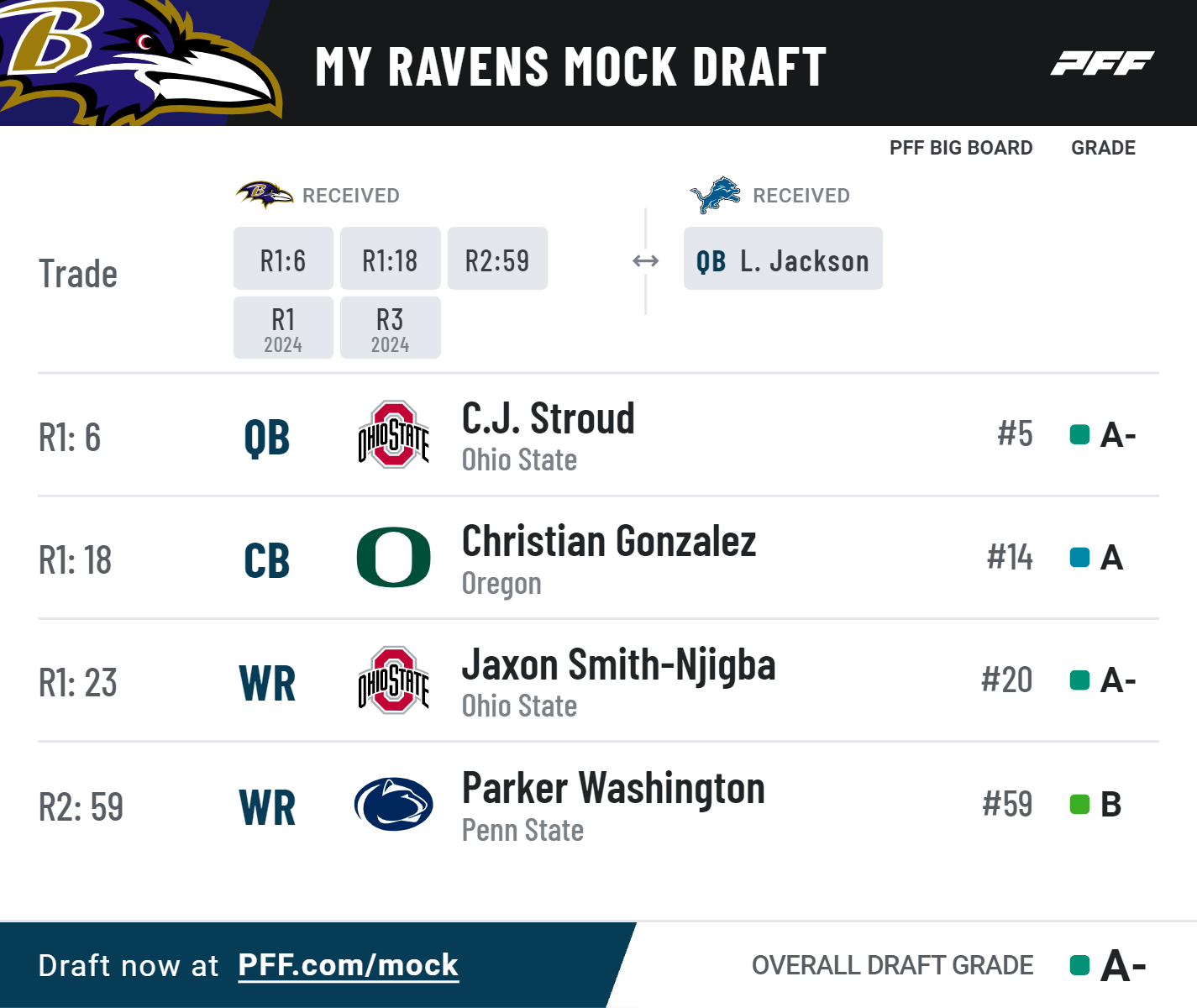 With the sixth overall selection, the Ravens would again be in position to target a quarterback, albeit with a small risk that four could come off the board by the time they would be on the clock. Here, they land Stroud at No. 6 overall before drafting Oregon's Christian Gonzalez, one of the top cornerbacks available. Wide receiver is still a big issue, though, and here they were able to grab Stroud's Ohio State teammate Jaxon Smith-Njigba and Penn State's Parker Washington in the mid-first and second rounds.
---
Atlanta Falcons send: 2023 first (eighth overall), 2023 second (44th overall), 2023 third (75th overall), 2024 first, 2025 first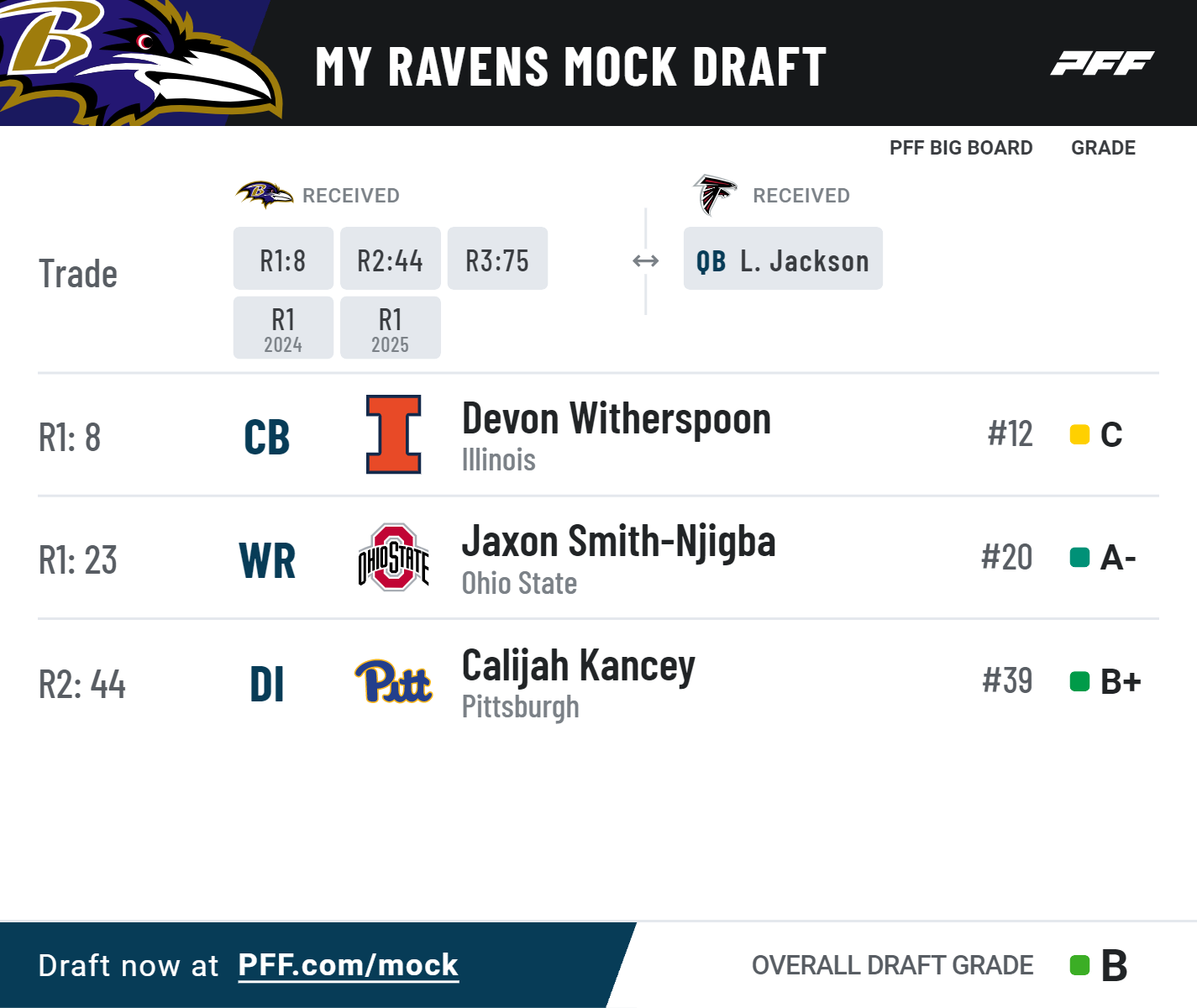 Four teams within the first seven picks of the 2023 NFL Draft have definite quarterback needs, so this is the first spot where the Ravens simply might not be in position to land one of the top four quarterbacks in the draft. In this example, that's exactly what happens, and while Illinois Devon Witherspoon would fill a need at cornerback, it would mean that Baltimore would have had to address quarterback in free agency or in another trade for a veteran. Smith-Njigba would be a nice target for whomever the quarterback is, and Pittsburgh defensive lineman Calijah Kancey would offer support in the trenches, but it's fair to wonder if the Ravens would be wiser to trade up from eighth overall if this was the scenario.